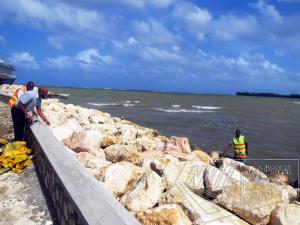 The National Works Agency (NWA) says that work under a $15 million contract, to construct Rock Revetments along sections of the main road from Falmouth to Rock in Trelawny, is now complete.
Community Relations Officer for the NWA's Western Region, Janel Ricketts, says that the project which got underway in August 2016, represented the second phase of a comprehensive effort to stem erosion along sections of this critical corridor.
The project involved rock revetment along 85 metres of the coastline and the construction of retaining and parapet walls. Three areas were targeted; these were the roadway in the vicinity of the Falmouth Pier, Half Moon Bay and Rock.
Under the first phase of the project, which was completed in March 2016, approximately 500 metres of the coastline was targeted. This project was valued at approximately $50 million and targeted the area in the vicinity of the Falmouth Cruise Ship Pier.
 Rock Revetments prevent shoreline erosion by acting as a barrier against wave action.
The project was completed on November 4, 2016.