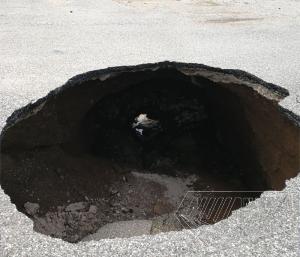 The National Works Agency (NWA) has closed a section of the John Golding Road in St. Andrew to vehicular traffic following the collapse of a pipe culvert in the vicinity of the Hope Valley Experimental Primary and Infant School.
The NWA is now moving to secure the affected section of the roadway and erect the necessary signs to alert motorists of the road closure.
According to Manager, Communication and Customer Services at the NWA, Stephen Shaw, the plastic pipe culvert appears to have been previously burnt out from beneath the roadway, causing the road to be severely undermined during the recent flood rains.
He says the replacement of the culvert and the reinstatement of the road are being treated with the utmost urgency as a number of critical facilities and institutions are located along the roadway. The plan is to install a concrete, fire-resistant culvert.
The John Golding Road is a critical roadway in the Mona community connecting Old Hope Road to Mona Road. During the period of closure, motorists will only be able to access the Hope Valley Primary School from the direction of Papine. There is no access from the direction of August Town or Mona Road.